[youtube_sc url="https://www.youtube.com/watch?v=DdWmxX-TkFU" title="VOA%20INTERVIEW" autohide="0″ autoplay="1″]
When she was crowned Miss Africa USA at a national pageant on  August 8 at the Music Center at Strathmore in the Washington D.C. area, the tall and striking model and youth recreation director Meron Wudneh paid tribute to the country where she was born.
"I am honored and delighted to represent Ethiopia," she said. Wudneh described her homeland as "an ancient African country with amazing biodiversity, people who take pride in preserving their diverse culture, its great warriors, kings and queens."
"I love dancing our traditional dances Eskista, playing sports and bringing visibility to our culture through our fashion which inspired my greater love of modeling."  Wudneh currently works in New York as a model while she continues her career developing youth programs for Montgomery County in Maryland. She is represented by a Christian Ruart Fashion Group.
She wanted to build children's futures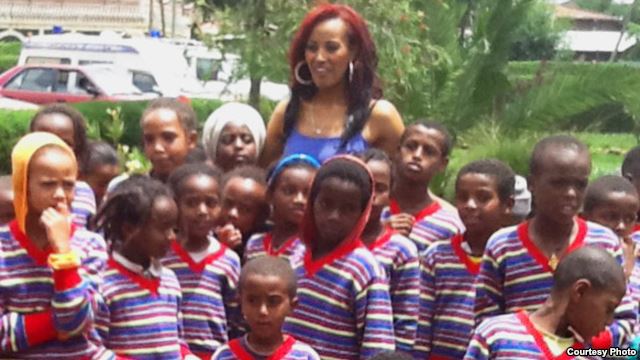 Wudneh was seven years old when her family emigrated to the United States. The family settled in the state of Maryland where she attended Wheaton High School. As she and her sister grew up, their parents wanted them to remember their African roots, so the girls had to always speak their native Amharic at home.
The six-foot-tall student received an athletic scholarship to attend Bowie State University, where she played women's basketball and earned a Bachelor's degree with a major in biology.
Last year she spent six months in Ethiopia working with some non-government organizations supporting then needs of Ethiopian children. She volunteered with the Mary Joy Foundation in Addis Ababa serving destitute seniors, people living with HIV/AIDS, orphans and disadvantaged Ethiopians.​
She witnessed the plight of the children first-hand, an experience that has energized Wudneh to further her cause for Ethiopia's children.
"I learned how one person can truly change a child's future," she says.
"Since I was a child growing up in Ethiopia I always had the desire to help people, especially kids." In high school in Maryland, Wudneh spent more than a thousand hours working with children in community service projects (athletic programs, health programs?) in her Maryland neighborhood.
She founded her own NGO
Two years ago she founded Kids First Ethiopia, to send school supplies, clothes and shoes to Ethiopian children who lost one or both parents to death from HIV/AIDS or are homeless.
Ethiopia has one of the largest populations of orphans in the world: 13 per cent of children throughout a country of 96 million are missing one or both parents. This represents an estimated 4.6 million children – 800,000 of whom were orphaned by HIV/AIDS.
After winning the Miss Africa USA competition, Wudneh wants to strengthen her Kids First Ethiopia project to develop strategies and funding to help needy children in Ethiopia to continue in school, graduate and become successful. She also hopes to expand these services to other countries in Africa.
"The pageant is not only about beauty but goes way more than that," she says. "As contestants and goodwill ambassadors, the organizers demand that we constantly work for the betterment of Africa."