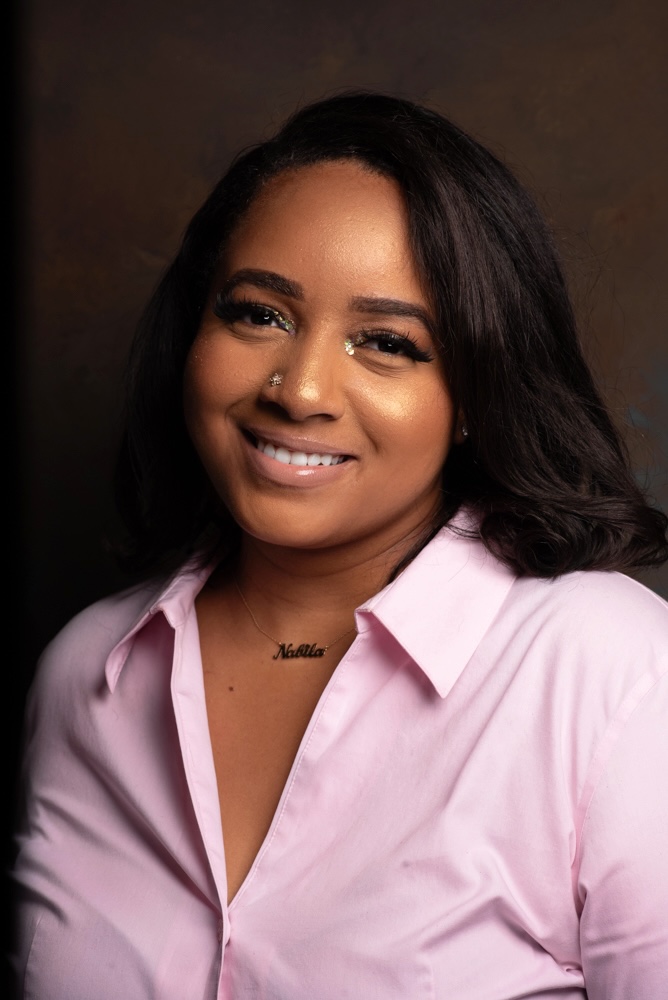 My name is Nabila Ivy and I am 29 years old from Washington, D.C. I attended Bennett College in Greensboro, N.C. I studied Interdisciplinary Studies with a concentration in Africana Women's Studies. I am a member of the Rho Mu Omega Chapter of Alpha Kappa Alpha Sorority, Inc.


My mother is from Nigeria and my dad is from the U.S. I am so proud and thankful for my background because I am able to have the best of both worlds of the African Diaspora. My parents have always instilled in me the importance of culture, history, and strong ethical morals. I am so thankful that my mother taught me Hausa since I was born. Being able to understand her language fluently has been something that I've never taken for granted.
I do a lot of work in the community and pride myself on my creativity. I'm resilient and a visionary. I started hosting several events in D.C. to expand my reach in several areas of the community. I am the creative director and events manager for the Black Professionals in International Affairs (BPIA). I curate events centered around networking. I saw a lack in diverse opportunities for people of color in D.C. and wanted to do something about it. I have plans to implement different initiatives within the community to help the progression of excellence all across the board.
In my free time I like to model, paint, travel, and take my cat named Hello Kitty on walks in his stroller.
I want to be the next queen because I want to be able to use this platform to create change as well as impact my community and beyond. This position is not just a title to be proud of but also an opportunity to step up and lead. I know that I will be able to deliver results with my platform in an effort to inspire change. I am very proud of my heritage and who I am, that is why this specific pageant is so important to me. I am dedicated to improving the efforts of Miss Africa USA by cultivating partnerships, strengthening relationships, and advocating for change. I actually submitted an application just before the pandemic; unfortunately the process was put on hold. Now that it is starting again, I would love to be considered for the opportunity to be able to show all that I have to offer. I know that I will be an asset to the Miss Africa USA brand just because of my vision for the future on inclusivity and change.
My humanitarian goal is to bridge the gap between the African Diaspora. My background in sociocultural anthropology has given me the ability to look at things from a bigger perspective. I understand the importance of community and coming together. We have to be the ones in charge of determining how we are going to move forward, write our own history and decide what type of legacy we want to leave behind. Bridging the gap, will strengthen our roots and push for overall change. We've since then persisted and thrived all across the globe. For the first initiative, I plan on highlighting those achievements by creating networking opportunities with people who are in the position to assist with the need for new job opportunities. I will host seminars that will include resume building, interview prep, and tips for networking. For the second initiative, I plan on hosting events centered on conversations on the African Diaspora by implementing ways we can improve lasting relationships amongst the different groups across the Diaspora. This will foster a safe space to engage in open dialog to express freely different areas of the African Diaspora. For the third initiative, I would like to advocate for the importance of Historical Black Colleges and Universities (HBCU) and how they are an essential part of our progress. Our youth need to be introduced to all opportunities including the chance to experience HBCUs. While staying on track with bridging the gap between the African Diaspora, I would like to create a program that partners schools together from different African countries with the U.S. in efforts to foster relationships between students. They will be able to experience first-hand cross-cultural connections by bonding with students from across the globe. This simple activity will have a greater impact on them long-term, if they are introduced to the African Diaspora at a younger age. They will be able to thrive on a global scale because they were able to have these interactions early on. I believe the three initiatives I stated for my humanitarian goal will help push us forward in the right direction and uplift our community overall as a whole.