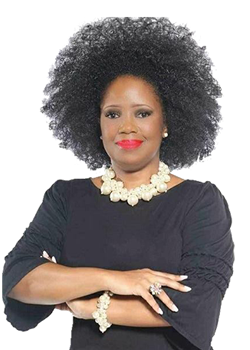 Jacquelyn "Jacque" Johnson is a 2017 Barack Obama Presidential Lifetime Achievement for Service Award Recipient, Award Winning Global Connector, Africa Power Broker, Innovative Thinker, an accomplished Master Growth Strategist and Business Development Veteran with 20+ years of experience managing multi-national billion-dollar brands and high-profile international relationships from Heads-of-State, African Royal Families to C-suite Executives of all genres and Client Agency Management. She is trilingual (English, Zulu and some French) with a multicultural background enabling highly successful cross-cultural business development and dialogue at various levels; proven expertise in designing and accelerating growth strategies and marquee events with an emphasis on brand promotion and growth of African brands worldwide. 
Jacque was born and raised in Jacksonville, FL and attended Georgia State University in Atlanta, GA as a business major concentrating an interdisciplinary study of law, political science and international relations. She is a results-oriented executive leader with an expertise in new markets, growth and strategic business development; as well as the creation and execution of comprehensive domestic and global brand campaigns and initiatives. 
Throughout her career, she has provided fresh growth perspectives and advice to some of the world's most recognizable Fortune 500 companies and multi-billion dollar brands such as The Coca-Cola Company, Delta Air Lines, IBM, UPS, Home Depot, VISA International, Time-Warner Inc., SONY, AT&T, Xerox, NBC, McDonald's and BMW.
Jacque's 20+ years tenure in a range of public and private sector positions involve identifying untapped business opportunities, thriving markets and consumer niches that drive innovation, growth and new revenue streams.  Corporate America, Corporate Africa, US and African governments, entrepreneurs, wealth-based individuals and brands looking to identify the next growth opportunity have all turned to Jacque as a top-tier strategist and brand development expert for direction.
She has delivered groundbreaking content to critical economic prospects, paved the way for countless connections, deals and growth opportunities. She's gained from a variety of corporate cultures extensive experience in diplomacy, business development and seamlessly brings together ideas, innovation and strategy execution across diverse industries at international and national levels.
She's dedicated the past 12-years exclusively to AFRICA's marketplace and its Global Growth Agenda and has lived in South Africa for 7-years to ascertain how best to successfully implement, analyze and interpret numerous industry trends, facilitated buy-ins, developed economic partnerships, reach across cultures and cultivate robust environments for seizing new business opportunities in Africa and the diaspora.
This knowledge, combined with Jacque's experience and vast contacts around the world, inspired her to launch Profile Africa Worldwide Enterprises (Profile Africa®), a Pan-African Economic Transformation Agency focused on Brand, Media, PR, Strategy and Business Development.
Her IDEAS Agency represents and promotes brands and individuals seeking to strengthen and expand their presence, business networks and economic relations.
Central to Profile Africa's mission is dedication and support of the Global Re-Brand AFRICA Campaign by establishing platforms with strategic audiences to showcase Africa's economic vibrancy, beauty, diversity, rich talent, intellectual and human assets across all lines of business, film, media, music, fashion, arts & culture, sports, lifestyle, politics and celebrity. WATCH OUT 2018 will be an EPIC Year for Profile Africa® in many of these areas.
Jacque has had the distinguished honor of sitting with several African Kings and Queens and attributes much of her exposure to various rich African cultures and traditions to being personally mentored by her Queen-Mother, HRH Zulu Queen Mantfombi Dlamini-Zulu. Jacque, as a member of the Queen's Court traveled with the Queen for several years which developed her understanding and respect for the cross-section between African culture and society.
Jacque's Diplomatic work involves leading and facilitating foreign delegations and making diplomatic introductions to governments, political, business and top industry leaders. A diplomatic highlight for Jacque occurred in 2008 when she worked on Barack Obama's presidential campaign stomp with the Oprah Winfrey, Michelle Obama, Tracee Ellis Ross and Alfre Woodard and other A-Listed celebrities; 2009 she led a high ranking delegation of African officials to the historic Barack Obama 1st Presidential Inauguration; 2013 she facilitated a highly successful 3-cities USA trade mission led by the then KwaZulu-Natal South African Premier (Governor), Dr. Zweli Mkhize and his Cabinet in Atlanta, GA, Washington DC and Baltimore, MD involving strategic meetings with major corporations, financial institutions, universities, Congressional Leaders, Congressional Black Caucus and US Government Officials.
In 2014-2015, Jacque served as Chief-Strategist to African government officials as an Expert on the African Growth Opportunities Act (AGOA) legislation; and developed high-level strategy for various Senior African Officials and facilitated meetings between US Congressional Leaders and African Official Appearances before US Congressional committees in response to an Official US-Congressional Call for AFRICA's input and participation in drafting the Renewal of AGOA Legislation. AGOA is the US-legislation that allows African products to enter the United States duty free and governs 98% of all US-AFRICA trade. Jacque's facilitation of these critical discussions between US Congress and African Leaders led to the successful renewal of the AGOA legislation in 2015 under the Obama Administration. This legislation renewal will support the growth and sustainability of small and medium-size businesses and GDPs throughout AFRICA for the next 10-years.
Jacque is a proactive visionary, ordained minister, TV/Radio personality, social justice provocateur, transformation agent, commentator on US-Africa relations, and mentors young entrepreneurs through her John Maxwell-based leadership training and development program Winning By Leading™. She has on several occasions been South Africa's National Women's Day keynote speaker and moderates and speaks on US-AFRICA trade and investment opportunities at global conferences, think-tanks, workshops and seminars.
Recently, Jacque had been nominated and accepted to participate in a 2018 Leadership and International Relations Program at the London School of Economics and Political Science "LSE" (one of the World's foremost Social Science University). She will be joining other great global thinkers of business and academia to analyze and develop strategies that will Change the World. Jacque attributes being afforded this amazing opportunity to her late parents' joint-commitment to ensuring her education and encouragement to always reach for the stars. Her father, Mr. James Ivory Johnson was a foreman at Maxwell House Coffee and mother, Mrs. Matilda E. Johnson was a school teacher.
Jacque sharing her passion for AFRICA around the World to all who will listen is the GREAT LOVE of Her LIFE. Developing strong brands and solid economic opportunities is Her Unique Skill. Shaping Mindsets and Transforming Hearts is Her GIFT from GOD.
Personal Motto: "What I make happen for others…GOD makes happen for ME!
CONTACT
Facebook: @IAMJacqueJohnson Website: ProfileAfrica.org Email: info@ProfileAfrica.org Phone: 202-630-2077