Celebrating 10 years of great Pageantry, the Miss Africa USA Pageant on August 27 2015 held a spectacular Cultrual show at the  Veterans Plaza, Down Town Silver Spring.  The showcase was a beautiful outdoor affair and open to the community who got a treat of Beauty and Culture combined.
Pictured Above, Nigerian Queen Frances Udukwu on set for Traditional Dance and she was all smiles as you can see.
The Cultural showcase is a segment of competition where each of the 25 Finalists has to showcase a traditional dance from her native land.  The purpose of this segment is to encourage every participant to be culturally grounded and understand their heritage.  Miss Africa USA Contestants are very unique because they find themselves growing up in two different cultures, being African and being American.  It is important to understand your heritage as well as assimilate in the society where you are growing up and get the best of both. Such is the unique beauty of these young ladies. They are Judged on creativity, originality, poise and entertainment value.
Miss Ethiopia, Miss Guinea and Miss Cameroon are ready for the showdown.
The event which commenced at 4.40pm and concluded at 9.30pm, attracted the Paparazis and the community at large.  There was a lot of excitement in the air as each contestant brought on very unique Traditional dances from their homeland.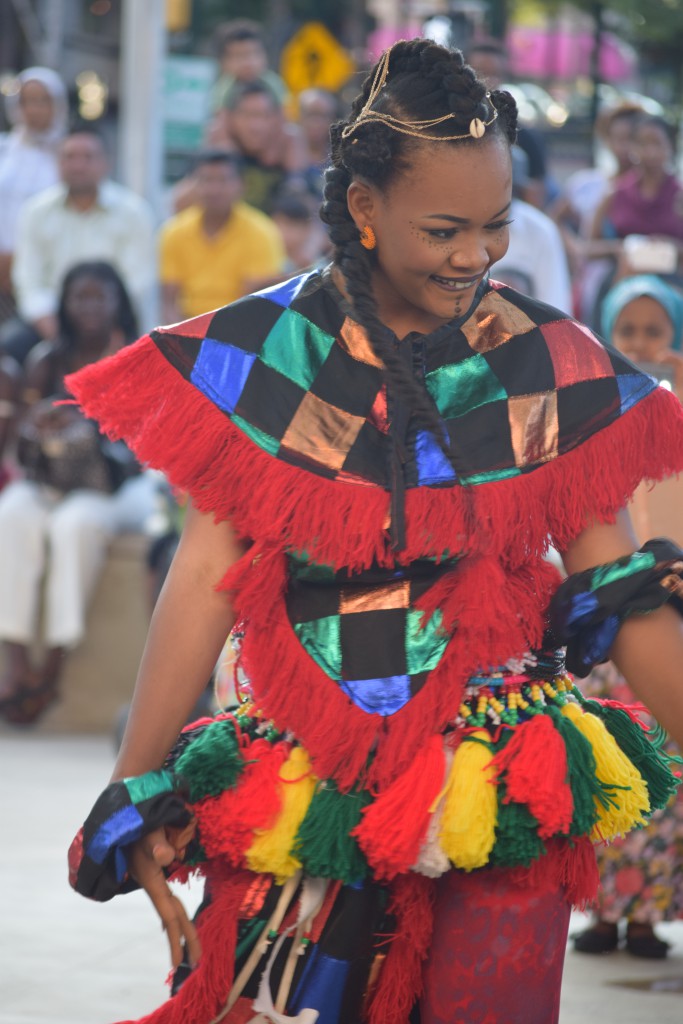 Miss Guinea in Traditional Dance
Miss Ivory Coast's Traditional Dance
The Judges pay attention to every detail and every move before dishing out their scores.
Great excitement feels the air as family and friends are cheering their favorite Contestants on Stage.