Reigning Miss Africa USA, Meron Wudneh arrived Addis Ababa in January for a humanitarian mission to support children orphaned by HIV/AIDS in Ethiopia.  She has teamed up with the Mary Joy Foundation where she will be spending over 6 weeks working with the orphans across Ethiopia.
Queen Meron won the pageant in August 2015 with a unique platform which focuses on expanding her mission to support orphans across Africa.  She Founded the Kids First Ethiopia Organization which she has now named Kids First Africa, hoping to have an impact and make a difference in different African countries.
The very first week on arriving in Ethiopia, the Queen teamed up with Washington DC Business Man Henok Tesfaye, owner of U Street Parking and took the orphans out for a treat at a restaurant.  They all had fun with the Queen as she started to get to know them by name and their various stories, sharing inspiration and hope.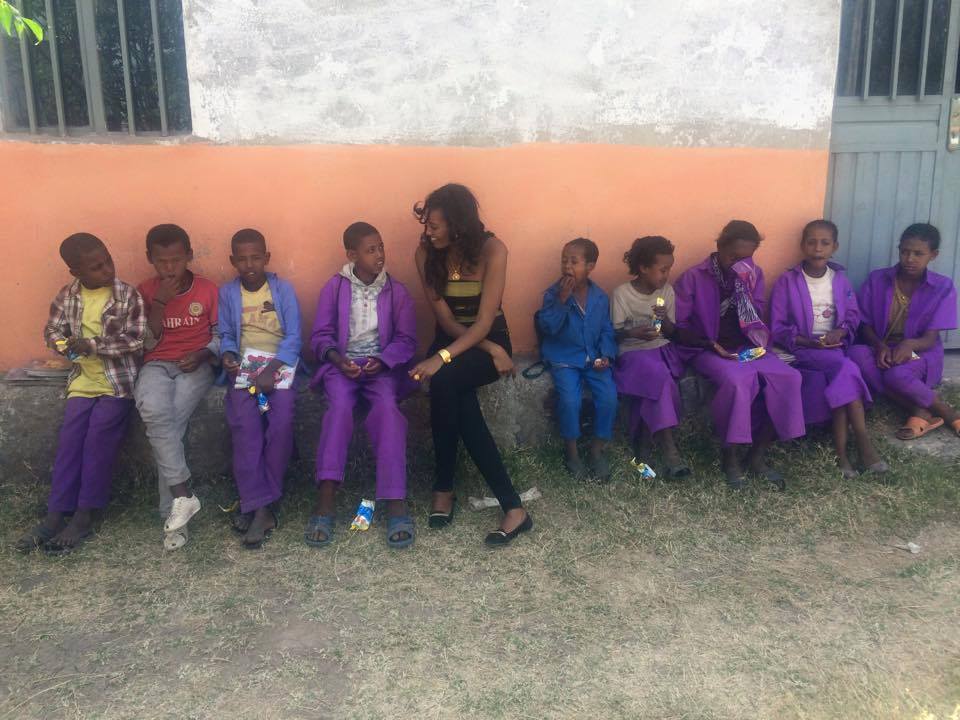 The Queen has also taken on a project to Supply brand new uniforms for the orphans and inspire them to pursue their education like other children, to feel comfortable and look good like their counterparts in school.  She found a tailor who will make the uniforms for the children and they were all very excited about their new uniforms.  As well as getting new uniforms for school, she is also helping the children with school supplies such as books and writing materials and tuition.
While in Ethiopia, the Queen has also launched an Essay Contest in various schools where students will compete for scholarships.  This contest is done in partnership with Youth For Human Rights Organization, promoting education for all children as a human right.  Children are asked to write about the importance of education and the winners will receive full scholarships for tuition.
Essays will be graded upon her return in the United States in March and the winners from the different schools will be announced in a timely manner so they receive their scholarships for the 2015/2016 academic year.  Please stay tuned for Updates on the Queen's Humanitarian Mission across Africa and USA as she continues to impact nations, making a difference in the lives of children.