Miss Africa USA 2015,  Frances Udukwu is establishing herself as an emerging Young Leader,  seizing every opportunity to ensure her leadership is impactful and makes a difference.  Earlier this month, She was invited to participate at the World Bank's Summit on Refugees with focus on the Refugee Crisis facing Sudan, seeking sustainable solutions to the refugee crisis.
In the Words of  United Nations Secretary-General, Ban Ki Moon, "When women take their rightful place at the negotiating table, in leadership positions across society, we can unleash Africa's enormous potential…".  That is exactly the goal of Miss Africa USA Pageant, empowering young African women across The United States to impact their communities and change the world.
The Event was organized by Humanity Helping Sudan Project (HHSP) and the World Bank Group who both aspire to bring awareness to the suffering of refugees with one question, how can we develop sustainable solutions to the challenges facings today's refugees? "Refugees have been deprived of their homes, but they must not be deprived of their futures." UN Secretary-General Ban Ki-moon.
Miss Africa USA was honored to have been invited to participate in the discussion and she took along her 1st Princess of the Royal Court, Miss Fatoumata Sy who hails from Guinea, another great young leader.
The Panel of discussion included the following dynamic leaders:  Mamadou Samba Director of the DC Mayors office on African affairs, Safiya Khalid Executive director of the Institute for Immigration research at George's Mason university and Mohammed Al-Samawi a Yemeni Peace Activist.
Miss Africa USA Frances Udukwu joined the conversation as a young Leader to offer solutions in her capacity as Queen, to make life better for refugees. She plans to host several workshops to help the young women refugees who are settling in the Washington DC and Maryland area to learn about their new communities, embracing the American culture, help them with resources and provide a network of sisterhood through the Miss Africa USA Pageant.
Queen Frances who was recently awarded an office space in Downtown Silver Spring is excited to use her new office facility as a base to work with the refugees as well as partner with the DC Mayor's Office on African Affairs to support  refugees. She was honored to meet Mr. Mamadou Samba the Director of African Affairs at the DC Mayor's Office.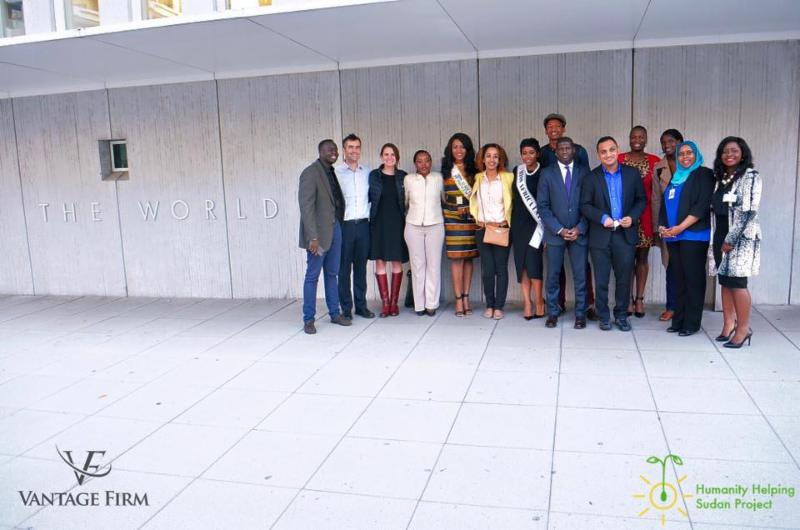 There were 59.5 million refugees displaced worldwide at the end of 2014 and the number is continues to grow. The refugee community is one of the most vulnerable groups in our society, with many experiencing horrific torture and trauma. What should the global citizen do to help these refugees integrate back into the general population, when we know they face several issues, including how to survive on their own without the aid of others? We believe it is important for refugees to have access to a sustainable lifestyle and integrate into other cultures.
There is a significant lack of awareness related to these issues within the media. Without increased awareness around the issues facing displaced refugees, acceptance and integration into other cultures will be very difficult or met with resistance. HHSP and the World Bank recognize these concerns and want develop a strategy to create realistic and scalable solutions. We will host world leaders and experts with insight into the refugee community to help form better solutions.
Once more thanks to the World Bank Group and Humanities Helping Sudan Project for organizing this Summit and thanks for extending an invitation to the reigning Miss Africa USA